Chemical Guys Philippines
Regular price
Sale price
₱3,575.00
Unit price
per
Sale
Sold out
Chemical Guys Plastic Restorer 2 Bundle
Inclusion:
1. InnerClean Interior Quick Detailer And Protectant (16 Fl. Oz.)
2. Tire And Trim Gel For Plastic And Rubber (16 Fl. Oz.)
3. Premium Grade Microfiber Applicators, Blue 2" x 4" x 6" (2 Pack)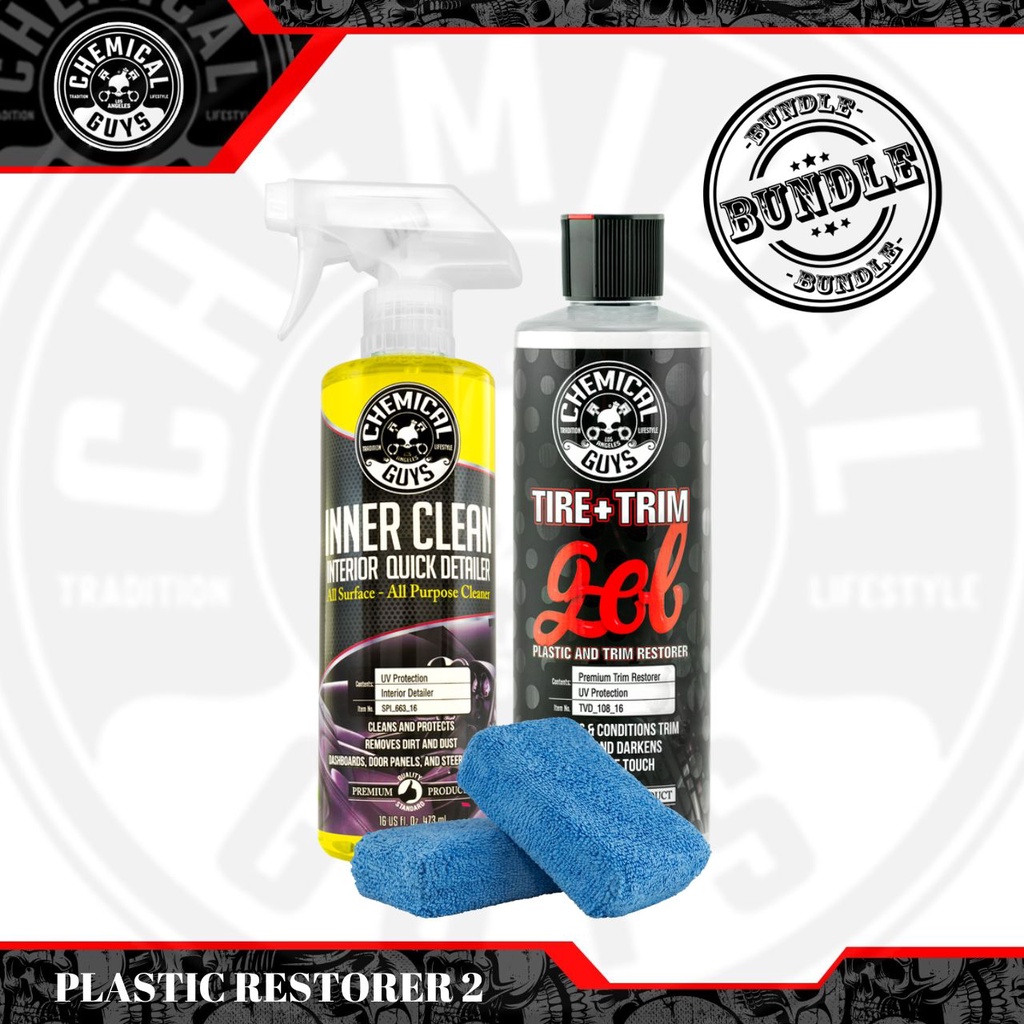 Share
View full details
Collapsible content
PRODUCT DESCRIPTION

INNERCLEAN INTERIOR QUICK DETAILER AND PROTECTANT

1. Apply a few lights sprays to a clean microfiber towel.
2. Gently wipe the interior surface to remove dirt, dust and body oils.
3. Once the surface is cleaned, flip over the microfiber towel to a clean side and buff off any excess product.

TIRE+TRIM GEL PLASTIC AND RUBBER HIGH-GLOSS RESTORER AND PROTECTANT

1. Clean surface with an all-purpose cleaner or interior cleaner.
2. Shake, then apply 2 - 5 sprays or a few drops of dressing directly into foam or microfiber applicator pad.
3. Spread dressing over the entire workpiece, then work and rub deep into the surface.
4. Buff off any excess residue with a microfiber towel.
5. Wait 5-10 minutes and add additional layers as needed.

PREMIUM GRADE MICROFIBER APPLICATORS 2-PACK

Clean the surface to be coated, protected, or dressed.
Use an all purpose cleaner, car wash soap, or specialty cleaner to remove any embedded debris, dirt, grease, or grime.
Apply 3 - 6 dots of any Chemical Guys cream or gel product onto the applicator pad.
Gently spread the chosen product over the workpiece in straight lines.
Work to ensure a thin, even coat over the entire surface. Store in a clean, dry place between uses.
ADDED DETAILS

INNERCLEAN INTERIOR QUICK DETAILER AND PROTECTANT

Applicable Materials: Vinyl Leather Dashboards Navigation Screens Steering Wheels Glass
Applicable Locations: Interior
Application Type: Clean
Shine Preference: Medium

TIRE+TRIM GEL PLASTIC AND RUBBER HIGH-GLOSS RESTORER AND PROTECTANT

Applicable Materials: Tire Rubber Plastic Vinyl
Applicable Locations: Exterior
Product Form: Gel
Application Type: Protect & Shine
Shine Preference: High

PREMIUM GRADE MICROFIBER APPLICATORS 2-PACK

Applicable Materials: Painted Surfaces Glass
Applicable Locations: Exterior
Car Finishes: Gloss
Material: Microfiber
SHIPPING

ESTIMATED DAYS OF DELIVERY:
1-3 days Metro Manila
1-7 days Outside Metro Manila

For SAME DAY DELIVERY, Kindly send us a message or call us at
(+63) 998 593 0447